Lake Geneva Women's Weekend 2022
Women's Weekend is coming back with a ROAR!
The Geneva Lake Women's Association is making preparations for the Lake Geneva Women's Weekend in 2022!
We're delighted to bring back Women's Weekend with a ROAR, starting with a fun-filled kick-off celebration at the Riviera and continuing with workshops, boat ride, and more! Stay tuned while we update the site, and follow us on social media to know when we make updates.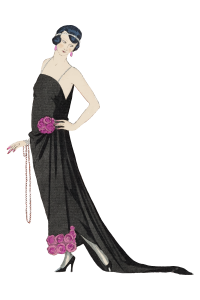 In the meantime, enjoy some fun terms from the 1920'S!
Bearcat:
a lively, spirited woman, possibly with a fiery streak
Berries:
Means something is good, desirable or pleasing.
"Don't take any wooden nickels!":
"Don't do anything dumb!"
Egg:
a person who leads an absurdly wealthy, extravagant lifestyle
Giggle water:
liquor, alcoholic beverage
Iron one's shoelaces:
to excuse oneself for the restroom
Know your onions:
to know what's up or what's going on
Noodle juice:
tea
"Now you're on the trolley!":
"Now you've gotten it right!"
On a toot:
on a bender
Ossified:
drunk
Sockdollager:
an event or action of great importance
Spifflicated:
inebriated
"Tell it to Sweeney!":
what you say when you believe something to be untrue